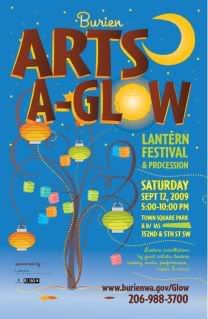 On continuation from the prior Saturday, I took Kyrie and Isaiah to the Arts Aglow lantern festival in the evening. It was a pretty fun and interesting experience.
First, we made some new lanterns. The kids had made some out of paper bags earlier at Kids' Day, but they wanted to make the other kind, too. They turned out a lot neater than the paper bag ones anyway.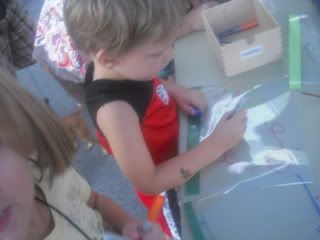 The event took place in
the Interim Art Space at Towne Square.
The new lanterns and decor fit nicely in with the rest of the sculptures around the plaza.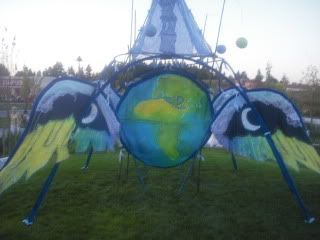 (these were actually lit later on, but my photography didn't do it justice)
They had face painting, so of course, the kids had to get in line for that!
The guy painting Isaiah's face was pretty stoked because Isaiah was his first and only customer to request this design that was included in the samples. They didn't think anyone would choose it. Only my son...
Kyrie chose a more contemporary design. It had pretty sparkles that you can't see very well in this picture: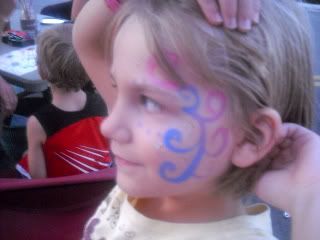 After that we got our lanterns lit...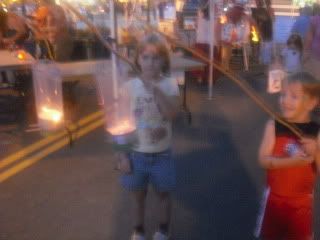 And enjoyed the entertainment of the stilt walkers and the
Yellow Hat Band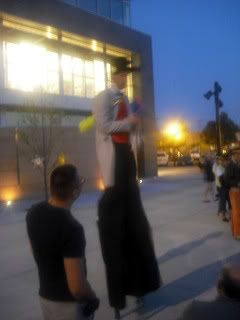 Soon some illuminated people on stilts came in and started the procession. The kids and I ended up toward the front of the procession, and as we looked behind us, we saw a very pretty sight of lanterns following us.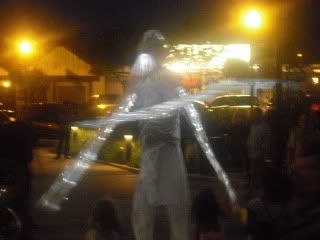 At the end of the procession, they had us make a wish and blow out our lanterns. Then they attempted to present a three dimensional shadow puppet show, but they kept blowing a fuse, so we only got to see a few minutes of it.
Kyrie met some new friends, and her new friend happens to be homeschooled(or actually "unschooled"). We got to meet up with them at a homeschoolers outing at the park today(but that's another post).
The kids had a blast, and they were so excited to have a day of fun and to be able to stay out past their bedtime!
Here are a couple of the other lantern design pictures I took. To see some better pictures from the event, you can
check out this Flickr stream.