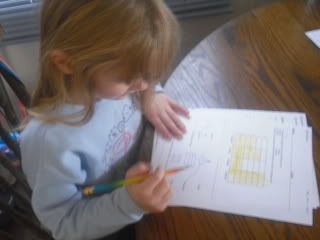 Kyrie is breezing through her 1st grade Math. She is at 63% completion. The norm is about 30% this time of year. Her teacher will be ordering the 2nd grade Math book when we reach 90% completion. In a couple of years, we'll be enrolling her at Princeton. ;)
I'm surprised at all the things they are teaching in 1st grade Math- fractions, geometry, some Algebraic-type stuff, Word Problems... Next thing I know, she'll be learning Differential Equations. Maybe we learned that in 1st grade. I don't remember, though.
The hard part of homeschooling Kyrie is getting started on each lesson every day. I keep telling her how fortunate she is that she gets lots more breaks and freedom than her non-home schooled peers, but she grumbles every time I tell her that we need to get started, or if I decide to do two lessons before lunch instead of just one. She has it so hard, I tell ya! I try to explain that next year she'll have more classes and less free time.