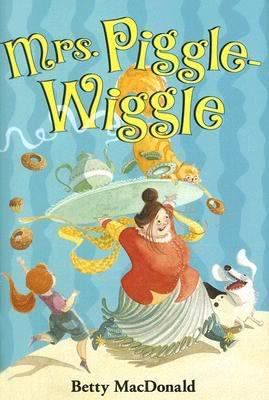 We've been reading this book for Isaiah's Language Arts the last couple of weeks. I just found out tonight that my husband's grandma was friends with the author of this book, by the way. If you haven't had the pleasure of reading this book, Mrs. Piggle Wiggle is an eccentric lady who has all sorts of cures for childhood ailments like selfishness, kids who won't pick up toys, kids who talk back, and the category that Isaiah falls into- slow eater, tiny bite taker. I swear, the boy would graze all day if we let him. It's good to eat relatively slow and take small bites, but in our fast-paced American society, we usually like to get it done!
So after reading this chapter today, I decided to play a little joke on Isaiah. Mrs. Piggle Wiggle's cure for the slow-eater, tiny bite taker was to gradually make the plates smaller. The first day the meal serving was on a plate the size of a saucer, a cup like a small after-dinner coffee cup, and they were given a small fork and a little spoon. The next meal was served on a plate like a doll plate, had a doll cup, and a very small fork and spoon. Each meal gradually got smaller until the plate was the size of a small penny, the cup would hold a small drop, and a fork like a needle, a spoon like a pin. Even with the small servings, the boy still would only eat a portion of it until he got so weak that he couldn't even sit up, and Mrs. Piggle Wiggle told him it was his turn to take the pony out for a walk, but he couldn't stay on and so he finally ate to get his strength back and was able to get back on the pony.
I actually skipped the saucer size plate and headed straight for the doll size plate- just to get a laugh out of Isaiah. He enjoyed bringing the story to life. I gave him a bigger size portion later. I think he might always be a slow eater, but he's a pretty good boy.