Back in Pullman, I went to my friend's house every Saturday and we hung out and did scrapbooking and other things together. It was nice taking the day off and not having to worry about the kids for a while. Mark has made it a point to make sure that I continue the tradition of fueling my social life on Saturdays. Today I got to hang out with my wonderful sister(technically, in-law, but she's more like a real sister, so for future references, the in-law tag will be left off).
Today was the opening of Seattle's light rail. Kim and I thought it would be fun to meet down-town and ride it on opening day. Kim suggested that I take the bus from Burien to meet her to avoid traffic and parking complications. It's about time that I take the next step to surviving big city life. The bus ride was an experience. You see all sorts of different people on the bus. It was fine until it started getting crowded, people standing in the aisles, the smell of cigarettes and body odor gave me a small headache. I got off the bus in the International District and Kim and I enjoyed a Dim Sum lunch at the Jade Garden. Afterwards, she showed me the Uwajimaya- a shopping center that sells mostly Asian food with an emphasis on Japanese. I think I might like to go back there sometime when I'm really in the mood to make some Japanese cuisine. It was interesting to see all the different fruits and vegetables that I haven't seen before. After that, we embarked for the nearest light rail station.
photo credit
Seattle has been waiting a long time for this. There are supposed to be more stations opening at later dates- including one at the SeaTac airport. That's a lot closer to me than the other stations. I look forward to riding again in the future. By the way, this makes three big city rail systems I have been on. I've also ridden BART in San Francisco and the NYC Subway.
We got off in Westlake, looking forward to the promise of entertainment, but there wasn't much. A few street corner musicians and some other interesting people to watch. We had a fun time walking through this little waterfall/fountain thing: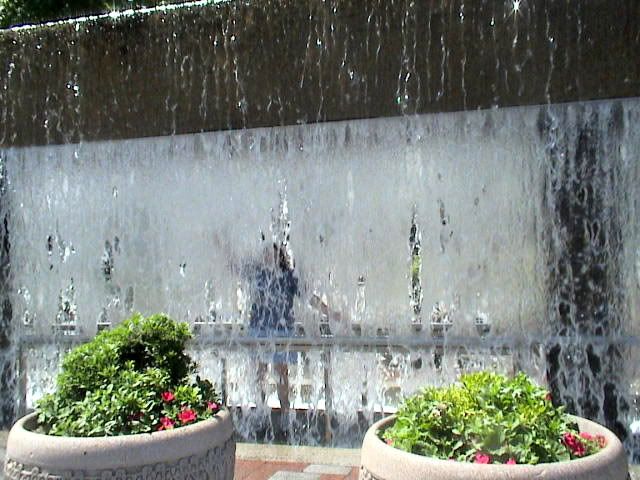 Yep, that's me. The water fell on both sides of this little bridge. I did manage to get a bit wet, but it was fun. We continued into the Westlake Mall and browsed the Daiso store(a Japanese dollar store- though most things were $1.50 and on other things, the prices went up to 2,3,4,5, or 6 dollars.
After a bit more wandering around, I realized that we were on Pike Street, so I asked if we were close to Pike St. Market. We were, indeed, so we headed on over. Even though I'm living in the Seattle area, I still feel a lot like a tourist, and today was no exception. I had to take pictures: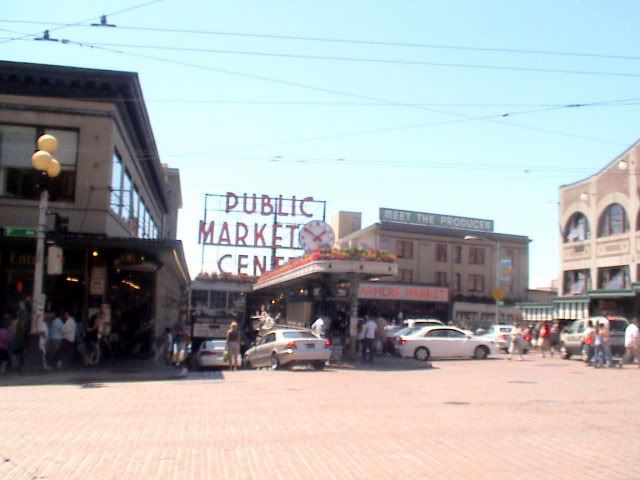 Excuse the poor quality. My camcorder can produce disappointing shots sometimes.
I was hoping to see them toss fish, but they weren't doing it at the time we were there. Browsing all the different wares was fulfilling, though. I got to taste some dark chocolate linguine at one stand that sold pasta. It was interesting- chocolate flavored pasta.
There was a pretty nice view of Mt. Rainer from the park outside of the Marketplace: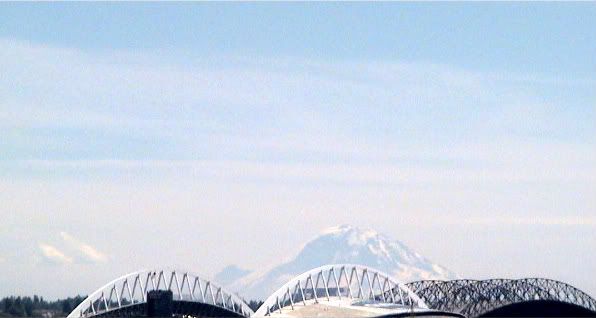 I hadn't really planned my return trip on the bus line, so Kim and I took the bus to her apartment and she decided to show me what Zipcar.com was about since we passed by some people handing out brochures and she told them she was already a member. I learned that zipcar is a car-sharing program. The member gets to pick the car they want to drive. The closest available car to us was a Honda Element. The cars are parked all over the city, you reserve your car on-line. It unlocks as you swipe your membership card over a little thing on the windshield. The cost of the car includes gas and insurance coverage. It was a fun little experience. I had to take pictures to document it, of course:
Kim was jumping up in the air, but my digital camera has to much of a drag time, so I didn't capture it right. This picture is pretty funny, though.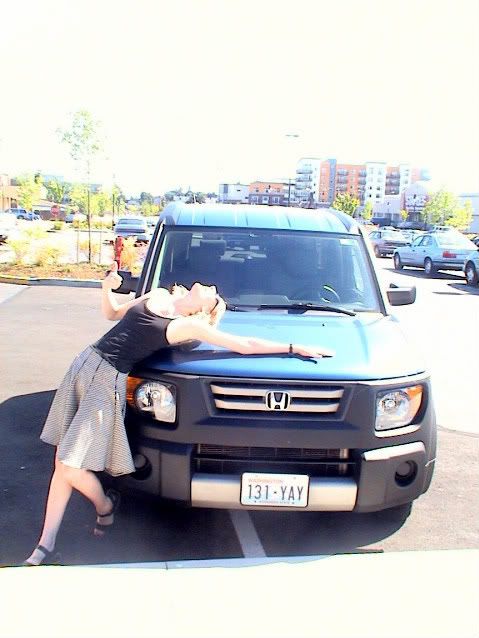 Notice the license plate. Oh yeah, each car also has a name. I forget the name of this car, though. I guess when you are getting close to the time to return the car, you can get a text message to your phone that says "so and so needs to come back home soon," or something like that.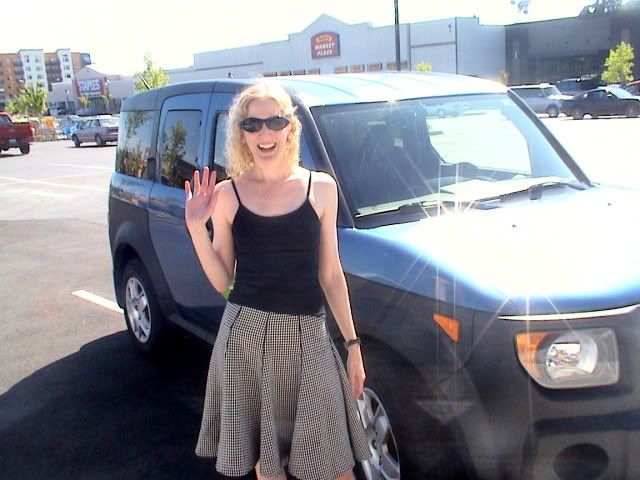 Thanks for the ride, sis! It was a lot of fun!
I got back a bit early, so I made a trip to the library and headed over to Seahurst Park. This was my first time at the park by myself. I parked my car in a shady spot and took a little nap. Then I made the short walk down to the beach. I took my shoes and socks off so I could cool off my feet. That didn't last long. The rocks hurt my feet. Next time, bring the water shoes!
I watched some guys catching crabs. They were about waist deep, and walking through the water. At first I thought they were feeling around for the crabs with their feet, but they could actually see in the water. They caught about 6. I finished up my time by going on a little walk and enjoying the scenery. I really do love the Sound! Such a beautiful area!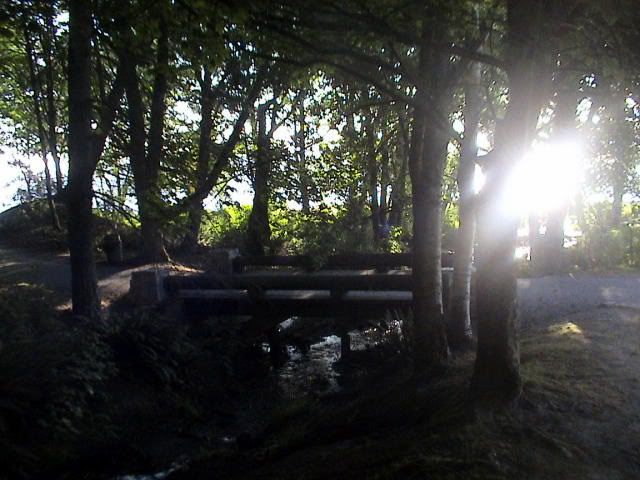 All-in-all, a pretty great day!