A little over 2 weeks ago, Isaiah wouldn't jump into the pool without holding on to someone's hands. He was afraid to put his face in the water. The same was pretty much true for Kyrie. They both grew a lot in swim lessons over the previous two weeks. They both learned to do the freestyle. Isaiah discovered the joys of jumping off the diving board. Kyrie was passed on to level 2 swim lessons because once she got the hang of it, she could float by herself, swim underwater and get her toy, etc. Isaiah's report card suggested that he repeat level 1. Even though he can freestyle swim on his own, he refused to show the teachers that he could float on his tummy or his back. He also had a hard time dealing with getting his toy off the bottom of the pool. I think he only needs a little more time to realize that he really CAN do it. I don't want to pay another $50 for him to repeat a level. I'm thinking that we got a good start to swimming skills, and that they both can swim well enough not to take any more lessons. I thought that they would do better to have someone else teach them how to swim, and I think initially it was good, but Isaiah does better without the pressure. I don't know. I'll keep practicing with him to see if he improves.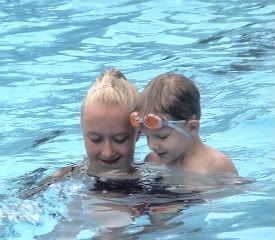 There's your toy down there! Are you going to get it this time?
Isaiah puts his whole face in the water! A big accomplishment for him!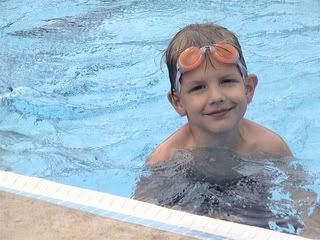 He's so proud of himself!
Kyrie is pretty much a pro at this
Their favorite part of swim lessons