On Thursday, we met up with Auntie Kim at Seattle Center. It was Free First Thursday at the Experience Music Project,
and we wanted to take the kids to see
We got in okay, but there was a big line of others waiting to see the Jim Henson exhibit, too. They told us that we wouldn't be able to get in, but they would give us a free pass to see it the next day. Mark didn't want to go back, so we passed on that, and looked around at the other exhibits. I didn't bring my camera in because I had read on their website that photography inside wasn't allowed, but everyone was taking pictures anyway.
You can see some cool pictures here, though.
We enjoyed seeing and hearing the musical instrument sculpture. Even with the large numbers of people there that day, we were able to get access to the headphones to hear them. Jayden didn't want to take the headphones off. We also went to the sound lab, and the kids got to play on the interactive percussion table, but the lines and wait times were too long for them to be able to do any of the other activities. Jayden's limited two year old patience didn't last very long, and I had problems carrying him around since they made me check his backpack carrier because it was too big.
We headed back outside to the International Fountain. This fountain was constructed for the 1962 World's Fair. It has a changing pattern of shooting water, and is accompanied by world music that is changed once a month and is choreographed with the fountain.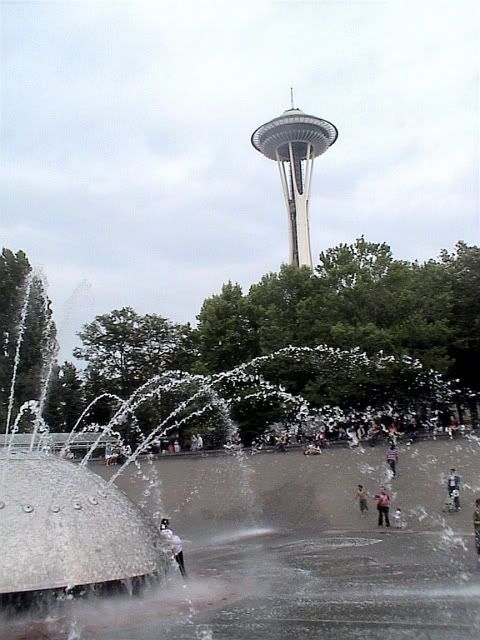 Kyrie LOVED the fountain and got soaked- even though the weather was pretty mild and we didn't bring a change of clothes. To my surprise, Jayden loved it, too! He didn't get as wet as Kyrie, but he and I both got a bit wet with a surprise shot from the fountain.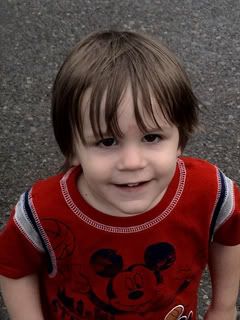 (By the way, I did take my little guy in to get his hair cut on Saturday. He really needed it!)
We stopped briefly to watch a street performer with hula hoops and card-throwing at a pretty amazing distance.
Walked around the Center House for a bit and headed back outside where the kids found a clown making balloon animals. On our way back to the van, we ran into some old friends who used to go to our church in Pullman. They were going to see Harry Potter at the I-MAX. I thought it was a pretty cool coincidence that we would run into them in Seattle. In the sea of so many unknown faces, it's nice to come across an old recognizable one.
And that ended our little family jaunt for that day. We've been having a lot of adventures this summer. The kids have been loving it!